Eragon Movie!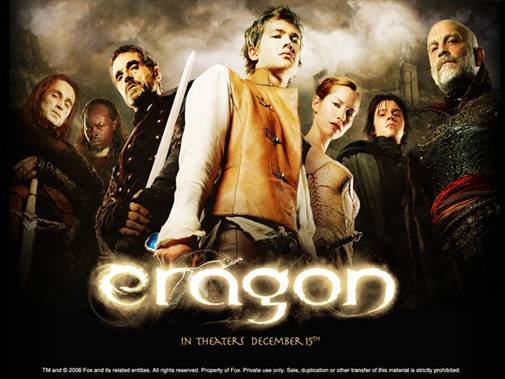 Today Jason and I went to go watch the Eragon movie. It was awesome. I loved it! I was a bit worried that I built up too much expectation but I do like it. And to think this morning I watched this movie review and the guy gave it a 1.5 out of 5. Geez like he knows what he's saying. It's only his opinion though anyway. But I enjoyed it. It missed parts and changed parts but it was still cool. So want to watch it again methinks =)
Just a pic from the movie. Eragon and Arya. He's actually pretty obsessed with her in the books. I can't wait for the last book to see the ending.
This is a pic of Sienna Guillory and Ed Speleers. This was taken on Monday lol. It was at the London premiere. I keep up to date with these things. He's looking pretty good. Maybe not so much in this photo but the straight hair is actually quite good on him. Haaaaa.

Glad it came out here today it's not meant to be out in the States until tomorrow. Besides that I'm on a low allergy diet. It sux coz I can't eat anything it feels. Well I can't have bread, wheat, flour, sweet stuff, diary products and can only have 2 pieces of fruit a day. I'm looking forward to when this diet is finished. Sigh.
And until next time xoxo
Labels: Eragon, Eragon movie